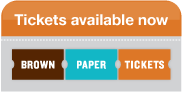 I
t's a cornucopia of choices!
Tickets for all 47 Moisture Festival events will go on sale at the stroke on midnight on Friday the 23rd.
The advance planners and deal hunters among you can take advantage of a 10% discount for shows in the first week (excluding opening night). Look for the "Early Bird" special for March 22, 34, and 24 showtimes.
Tickets for our one of a kind New Year's Eve party will also be on sale. This unique evening of ringing in the New Year as only the Moisture Festival can has become a staple of our pre-festival season. This event sells out every year, so take advantage of the discount for early purchase discount and lock in your seat for a New Year's Eve celebration full of world-class Moisture Festival artists, dancing, drinking, hors d'oeuvres and extreme merrymaking.
C
ommemorative tickets for 2013 festival events!
Our
Brown Paper Tickets
friends have gone above and beyond this year. We are extremely moved and proud to participate in their new Artist Ticket program. This is a great way to make your ticket go further to support a great cause.
One of two limited edition ticket designs
Brown Paper Tickets is proud to unveil the Artist Ticket program. The Artist Ticket program was developed as a way a way to donate additional funds to causes and charities that we feel passionate about.
The ticket buyers will have the option to receive an Artist Ticket for an additional charge. The ticket buyer will then receive a limited edition collectable ticket imprinted with original artwork by a local artist. Additionally, the chosen charity will receive 100% of that additional charge.
For the launch of this program, we have chosen to donate to the lone survivor and families of the victims of a horrific tragedy that struck a chord for all of us in the artistic community here in Seattle.
On May 30, 2012, a lone gunman killed five people and wounded one in a shooting spree that began at the local Seattle artist refuge Cafe Racer. Some of the victims were important members of the local artistic community and now, six months after the shootings, there is still much healing that needs to be done.
In an effort to raise funds for the victims' families and the lone survivor, Brown Paper Tickets is offering up to 100,000 limited-edition Cafe Racer Artist Tickets imprinted with works of art donated by nationally recognized artists and Cafe Racer regulars Jim Woodring and Ellen Forney. Ticket buyers can pay an additional fee for an Artist Ticket, all of which will be donated to the Victims of the Cafe Racer Shooting Memorial Fund.
We hope to see you and yours at a 2013 festival show!